New York Central System The 20th Century Limited Art Print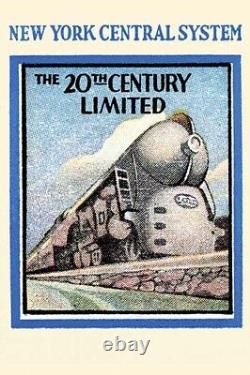 This artwork is available in the following variations (size in inches): 12x18 paper poster - 12x18 paper giclee - 12x18 canvas print - 12x18 canvas giclee - 16x24 paper giclee - 16x24 canvas print - 18x27 paper giclee - 20x30 paper poster - 20x30 paper giclee - 20x30 canvas print - 20x30 canvas giclee. Sizes refer to the image itself. In addition there is a white border of approximately 2 inches on each side, which can be trimmed for framing or mounting.
New York Central System - The 20th Century Limited - Art Print Advertising on a matchbook cover for the New York Central railroad promoting the 20th Century Limited train. Unknown Date/USA Posters are printed on heavy-stock, semi-matte paper Prints on canvas are gallery-wrapped, and will arrive unframed and ready-to-hang. The image will go around the edge of the stretched canvas, giving a greater depth to the art. The high-quality canvas is securely mounted over a sturdy wood frame for maximum stability and tautness. Giclee printing provides beautiful color accuracy with a smooth, acid-free surface that is perfect for framing.
The source of these posters is an archive of 15,000 vintage images along with the historical information on each. All files are stored digitally and are ready for reproduction in a variety of sizes and the quality is closely monitored to ensure satisfactory results.