20 acre Gem Blue Chalcedony deposit Mining Claim central NV near Austin Gemstone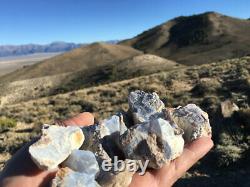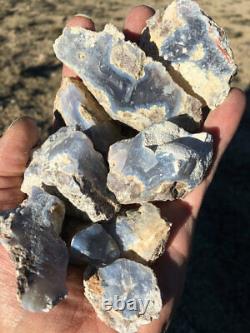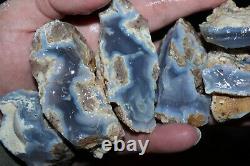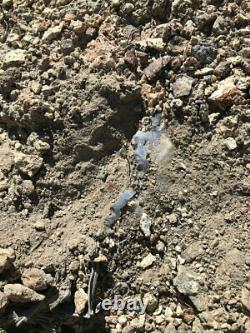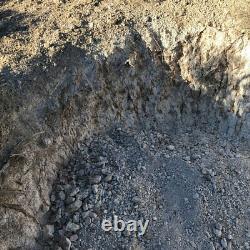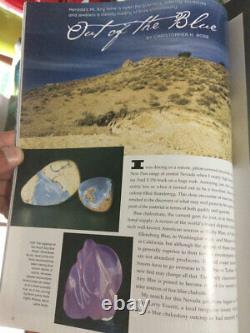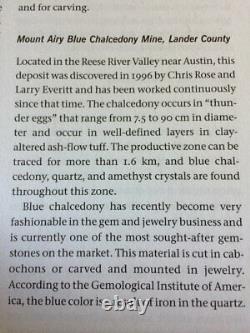 This is the real deal, a top notch gemstone / gem mining claim that you can own and dig and cut/polish beautiful rare blue chalcedony gems from, make jewelry, and polish and sell the specimens! This is a gem and lapidary material that has grown in popularity and increased in value over the years. It is NOT the cheap stuff from overseas, this is the top gem grade material from right here in the USA! The claim is barely scratched and you will see this when you go to the claim. This is for 100% full ownership of the mining claim totaling 20.66 acres, 1500 x 600 ft Lode claim on federal land, central Nevada Gem quality Blue Chalcedony, also known as Mt Airy Blue Agate, west of Austin NV. This was the original discovery of the blue chalcedony in the region. It was held by Larry Everitt and Chris Rose (High Desert Gems) until the Everitt's moved away from the area several years ago and the claim was not kept up and became forfeited. To the best of my knowledge, Chris Rose still has a couple of claims over the hill to the south. This claim was named after the original discoverers wife and I kept that name when it was relocated for the history and provenance, but the new owner could re-name it if desired. This mining claim is assigned. BLM MLRS Serial number #. Access is by a dirt road 1.33 km uphill from highway to top of a hill. Then you have to hike or ATV downhill to the dig spot on the claim about 1400 feet away. This keeps it secluded and deters claimjumpers and highgraders from easily digging & stealing from the deposit. The Chalcedony occurs in thundereggs from an inch to over several feet in size, within a zone of easy to dig ash. There is also a zone of the blue agate and thundereggs in the hard indurated rock on the west side of the diggings. The pit is easy to dig. I dug for less than an hour and filled up over a 5 gal bucket of good pieces with gem grade. This is an important deposit that you can say is ALL NATURAL COLOR and MINED IN AMERICA, and ethically sourced location and material! Better blue color and saturation than the prized Ellensburg Blue Agate from Washington. See the CLICKABLE LINKS BELOW for more info and details. I have more photos and video on my website too!
Feel free to ask any questions beforehand. Published with provenance in the following references. Rose, Christopher (1997) Out of the Blue, Lapidary Journal, June.
Minerals of Nevada (UNR Press, 2003)(Page ____)(credit to Author Chris Rose). See more mining claims for sale on the website at the clickable link below. THE CLAIM HAS TO HAVE A CURRENT, VALUABLE DISCOVERY.... MOST CLAIMS LISTED HERE OR ELSEWHERE CANNOT MEET THAT CRITERIA, BUT THAT IS THE REALITY. THIS CLAIM CAN BE MINED AND WORKED AT A PROFIT AND YOU HAVE PICTURES OF THE MATERIAL THAT PROVES THE CLAIM.
DO OTHER CLAIM SELLERS HAVE THIS SAME PROOF? Closest towns: Austin, Nevada 89310 is about 16 miles to the east.
You can see the lights from town at night when you are parked on top of the hill near the claim. The top gem grade stuff sells by the gram! UNauthorized digging and mineral removal will be dealt with legally, sorry that I have to say this, but I have to protect the value in this claim. NO MECHANIZED EQUIPMENT please if going out to test dig, hand tools only. GPS Coordinates and info will be given by private message to interested parties so I know who is going out there. It is current thru August 2022.
I have also included two blue links below to BLM information on mining claims. Contact me and we can work something out. I STAND BY MY MINING CLAIMS 100%. When the county transfer is recorded, I will then pay/file the transfer with the BLM. I will forward a copy of that to you as well and the BLM will send you a notice as well.
I WILL HANDLE THE ENTIRE CLAIM TRANSFER PROCESS TO MAKE SURE IT IS DONE RIGHT AND TO MAKE IT EASIER ON YOU. Please note that with Federal UNpatented mining claims on federal lands, you do NOT get the land, you get the mineral rights and deposit and the right to own and remove the minerals. You have to have a mining claim to dig and SELL what you find from federal lands. This is a very simple explanation.
For more general info on federal mining claims I recommend reading these two publications. For general info on mining claims, I recommend reading the following two publications. US Dept of the Interior Mining Claims & Sites on Federal Land. IF YOU HAVE ANY QUESTIONS OR NEED ANY MORE INFO FEEL FREE TO CONTACT ME... The item "20 acre Gem Blue Chalcedony deposit Mining Claim central NV near Austin Gemstone" is in sale since Monday, October 18, 2021. This item is in the category "Real Estate\Land". The seller is "earthprospecting" and is located in Ontario, New York.
This item can't be shipped, the buyer must pick up the item.
Featured Refinements: Mining Claim
BLM Serial #:: NV105264954
State/Province: Nevada
Seller State of Residence: New York
Zoning: 1872 Mining Law / BLM Land / Multiple Use
City: Austin
Acreage: 20.66
Type of claim:: Federal UNpatented LODE mining claim
Commodity:: Gemstones (Blue Chalcedony) & all other minerals