Kato 106-100 N New York Central 20th Century Limited Passenger Car (Set of 9)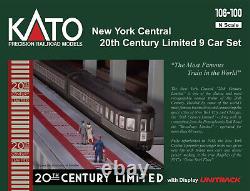 This is a Kato 106-100 N Scale New York Central 20th Century Limited Passenger Car (Set of 9). Features: Completely new tooling for each of the individual car bodies in this set to accurately match the prototype! Specific interior and exterior details that match the 50's era consist including such iconic cars as the big window bservation! Shock absorber construction gives even traction and performance fitting for these water level route cars!
Observation car with illuminated tail sign. All detail parts installed - fully ready to run!
Kato 106-100 N New York Central 20th Century Limited Passenger Car (Set of 9). Interior of cars can be lighted with optional installation #11-211/212 LED Interior Light Kits Released along with a pair of newly tooled EMD E7A locomotives era appropriate to pull the train! Contents of this set: Baggage-RPO #5017, Pullman 4-4-2 Sleeper George Washington Bridge, Pullman 4-4-2 Sleeper Bay Bridge, Pullman 4-4-2 Sleeper Queensboro Bridge, Club-Lounge Lake Shore, Kitchen-Dormitory #474, Dining Car #401, Pullman 12-Bedroom Sleeper Port of Buffalo, 5-Bedroom Lounge Observation Hickory Creek, Display Unitrack & Special Red Carpet re-railer Condition: Factory New. Standards for all toy train related accessory items apply to the visual appearance of the item and do not consider the operating functionality of the equipment.
Condition and Grading Standards are subjective, at best, and are intended to act as a guide. This item is brand new from the factory. May have store stamps and price tags. The Trainz SKU for this item is P12450594. Please note, after seven days our systems may automatically re-list unpaid items.
Learn more by reviewing our policies. Explain why the item does not meet your expectations and how you would like us to handle the issue. If your item has been damaged try to include a photograph of the actual damages. We'll do our absolute best to make you happy.
Make sure to include your contact and order information when you return your items. Contacting Trainz provides us a chance to resolve your issue while allowing you to keep the item.