New York Central Railroad Train RR Station Terminal Depot Tower 47 Cornerstone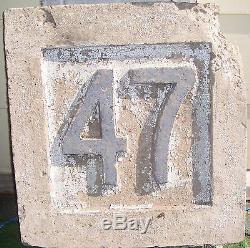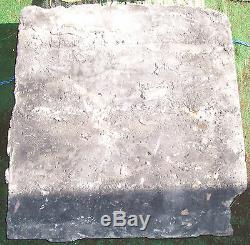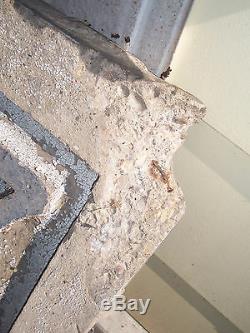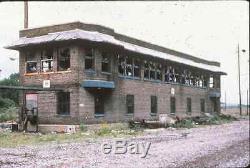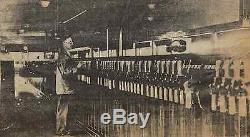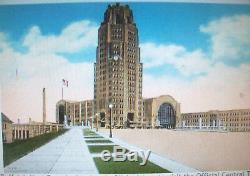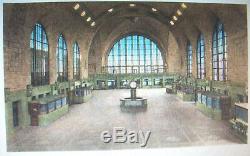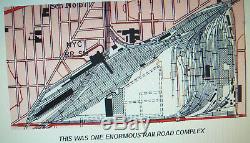 Do you live in WESTERN NEW YORK? YOU MUST COME AND PICK IT UP! NEW YORK CENTRAL TERMINAL COMPLEX. BUFFALO AS A RAIL CENTER: In 1927, Buffalo was second only to Chicago in rail terms. Buffalo was an industrial behemoth and major transportation hub with 13 trunk line railways connecting it to every major city in the Northeast.
THE "DEPOT" WAS MORE THAN JUST THIS TOWER! Heralded as one of the premier examples of railroad art deco architecture when it was built in 1929, the New York Central's Buffalo Central Terminal is an imposing and majestic building. The Grand Opening of the facility on Saturday, June 22, 1929. A quirk of fate would make this the apogee of the Terminal's history. The great Stock Market Crash of 1929 was only a few short months away. The art deco style station was built to accommodate up to 3200 passengers per hour, or 200 trains per day. The complex sits on a 17 acre site 2.5 miles east of downtown Buffalo. The New York Central Terminal in Buffalo, New York, USA, was a key railroad station from 1929 to 1979. The 17-story Art Deco style station was designed by architects Fellheimer & Wagner for the New York Central Railroad.
After years of abandonment, it is in derelict condition, but is now owned by the non-profit preservation group Central Terminal Restoration Corporation. The Central Terminal is located in what is called the Broadway/Fillmore district (or Polonia District) of Buffalo.
The New York Central decided to build the new Buffalo Central Terminal 2.5 miles (4.0 km) to the east, in order to relieve both rail and grade crossing congestion and to be more conveniently located for trains not terminating in Buffalo. A roomier area would also ease the transfer of sleeping cars between trains. Furthermore, Buffalo was a quickly growing city at the time, and it was believed that before long Central Terminal's area would become closer to the center of a sprawing metropolis of 1.5 million people. It also helped that the New York Central RR already owned most of the land needed. The City was not so sure, but planning was well underway in 1924, despite the lack of an agreement at the time. TOWER 49 WAS LOCATED IN THE CLEARING BELOW THE REA BLDG. TOWER 47 WAS LOCATED EAST OF THE COACH YARD TO THE RIGHT OF TOWER 48.
The Complex: The terminal is located about 2.5 miles (4.0 km) from downtown Buffalo, and consists of several structures, some of which are or were interconnected. The complex was designed for 3200 passengers per hour.
Main Concourse: The main concourse is 225 feet (69 m) long, 66 feet (21 m) wide, and 58.5 feet (17.8 m) tall (63.5 feet [19.4 m] at the domed ends). The concourse included various rental spaces; a restaurant with a dining room, lunch room, and coffee shop; a commercial telegraph office; and a soda fountain, along with standard station necessities.
Curtiss Street runs directly below the concourse. CHECK THE BARBER SHOP (LEFT SIDE). HOW MANY PEOPLE DID THEY FIGURE WOULD GO THROUGH THE PLACE? TO KEEP SIX BARBERS HAPPY? Office Tower: The office tower is 15 stories, excluding the main floor, and mezzanine.
The 271 foot (83 m) building is owned by the Central Terminal Restoration Corporation. Train Concourse: The train concourse is 450 feet (140 m) long and includes 14 high-level passenger embarkation/debarkation platforms. Each platform is accessed by a staircase and a ramp.
The train concourse is owned by Amtrak, with the land being owned by CSX. Baggage Building: The baggage building on Curtiss Street is owned by the Central Terminal Restoration Corporation. It is a four-story building immediately adjacent to the Main Concourse. It is a two-story building adjacent to the Baggage Building. Railway Express Building: The Railway Express Agency was the early forerunner of today's Federal Express, UPS, etc.
Trains would pull directly into the building to proceed with the load/unloading of goods. This building is currently owned by the City of Buffalo which has made plans over the years for its demolition. Power Station: The first building built as part of the project was a cogeneration power station that provided heat and electricity to the complex, even during construction. It contained three 28-foot (8.5 m) coal boilers. The power plant itself lasted up until the mid-1980s, with its exact demise not known.
The complex consisted of over 30 miles of new track, three interlocking towers 47, 48, & 49, a power plant, postal and baggage facilities and signaling system. The interlocking system was the largest in the world with 928 levers controlling a myriad of switches and signals. (see pic of complex) The trackage began in the vicinity of William St. And Filmore Ave to the west and 1/4 mile east of Bailey Ave.
The towers were numbered according to the current railroad mileposts closest to their proximity. Thus, the complex was over two miles in length from tower 47 to tower 49. Interlocking towers or block stations were used to manually control track routes and signal controls within a defined set of limits, operated by block operators or towermen under the direction of a train dispatcher. The Interlocking machine within, was used to line up the switches and signals to provide a route for trains to operate on. The machine consisted of levers and other devices whose operation had to be performed in specific sequence order for a route to be properly lined. The three towers controlled some 7 mainline tracks, thirteen station platform tracks and numerous tracks for the Railroad Express Agency and Post office facilities as the diagram above shows. Tower 49, on the west end of the terminal complex had over 300 levers, tower 48 on the east end over 200 levers and the furthest eastern tower, No.
47 had over 100 levers with the control over the west end of Buffalo's Frontier yard. The interlocking machine could be compared to a combination lock, TO THE TENTH POWER, with its complexity. The buildings themselves and the interiors were constructed with to the same elegant levels as was the terminal building.
Each tower was made of solid brick two stories tall. The interiors were clean and functional.
The interlocking machines themselves, tower 49's almost 100 ft machine constructed of cabinet grade oak panels with brass lever handles. Quite elegant for a "factory office" in its day, suitable for tours. Due to their complexity, towers 48 and 49 were operated by a three man crew, tower 47, a one man operation, 24 hours a day.
Each tower had its very own number made of poured concrete as its cornerstone. Shown above is Tower 48, located at the east end of the terminal complex.
You can see the "48" stones on the two faces of the building. Two more on the hidden sides.
It measures about 25" x 26" x 3 3/4 in size and weighs (by guesstimate) over 100 pounds. Thus the "PICK-UP ONLY" requirement and I do recommend you bring along a strong helper to lift it. Condition: The white paint has fallen away from the interior of the stone but the No. 47 still holds its black intact.
The only real blemish is a chunk chipped away from the upper right hand corner (see pics). The stone is still 95+% intact. Compare to prices paid for New York Central lanterns, books, keys and china. How many of those exist today? THIS PIECE IS ONE OF A KIND!!!
If YOU have any other information or data on this piece and would like to share it, I'd be more than willing to pass it on to any possible NEW OWNER. Please feel free to contact me.
That's about all I can tell you about this UNIQUE RAILROAD collectible. If you collect NEW YORK CENTRAL STUFF, RAILROADIANA.
Or just want a good "1 IN A MILLION" GIFT for YOURSELF.. You could add this unique piece to your collection. READ the description/policies, STUDY the pictures, ASK questions! SO, BEAT HIM TO IT AND IT'S YOURS!! All you have to do is... GOT A FRIEND, RELATIVE, SOME ONE THAT COMES TO THIS AREA THAT COULD PICK IT UP FOR YOU? YOU MAY PAY ON PICK-UP. I ACCEPT MONY, WHICH IS JUST AS GOOD AS KASH OR POSTAL MONY ORDERS, NO PERSONAL CHEKS. How much would you spend for gas to come and get it? If interested, contact me for directions. THANK YOU FOR YOUR UNDERSTANDING. ANY CLAIM FOR DAMAGE WILL REQUIRE PICTURE PROOF OF LOSS. Would you like to see more like this? FEEDBACK POLICY WE ARE STRIVING FOR 5'S!!
We are committed to providing you a 5-star experience when you deal with us. If we miss the mark, please let us know before you leave any feedback. I will promptly submit my feedback as soon as yours has been posted. This doesn't include change of mind!
The day it leaves the factory, it becomes one day closer to it's end date. When I find these devices, I plug them in, wind them up or put in a battery. At that point in time, I have NO IDEA of how old or how much use they have incurred. They may last a lifetime, or fail the next time they are turned on. Therefore, I sell these as "Decorative or Ornamental purposes" only, not functional. Which may be referred to as "AS IS". Note: On some items, UPC symbols may have been removed for rebate purposes. I try to be as accurate and complete as I can in my item descriptions. I value my feedback record as much as YOU do. We do not mark merchandise values below value or mark items as "gifts" - US and International government regulations prohibit such behavior.
The item "New York Central Railroad Train RR Station Terminal Depot Tower 47 Cornerstone" is in sale since Tuesday, July 17, 2012. This item is in the category "Collectibles\Transportation\Railroadiana & Trains\Signs & Plaques". The seller is "tradsell" and is located in Lancaster, New York.
This item can't be shipped, the buyer must pick up the item.
LOCATION: BUFFALO, NY
Modified Item: No
Country/Region of Manufacture: United States
RAILROAD (S): NEW YORK CENTRAL, PENN CENTRAL & CONRAIL
YEARS: 1929 - 1985
California Prop 65 Warning: HUH?