New York Central Colossus Varnish Brush, Angular Size 50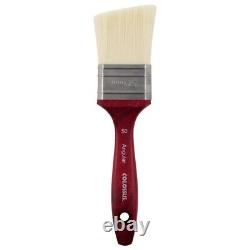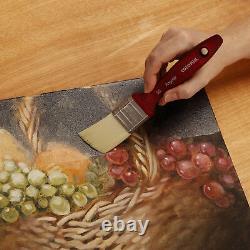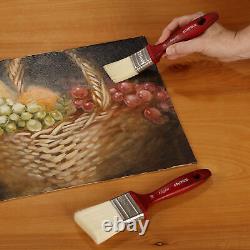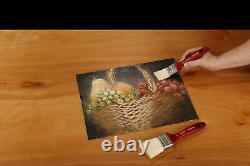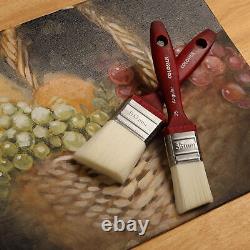 The Colossus Varnish Brushes are the best varnish brushes on the market for any level painter! You can cover a larger area because the brush features an internal fluid reservoir that holds paint or varnish in addition to the paintbrush tips, which retain a considerable amount of fluid. Besides, these brushes are triple-thick, making them the ultimate brush for laying down large areas of paint, either thin ink or heavy impasto, as well as varnishes and gels of all sorts. Very fine 0.15mm PBT tapered filament allows for the most versatile use from varnishing to impasto painting to large scale lettering.
The fine synthetic bristles do not leave any traces or marks when varnishing, creating a seamlessly smooth finish. New York Central Colossus Varnish Brushes - Synthetic Hair Paint Brush Used For Laying Down Large Areas Of Color and Varnishing - Size # 50 The Colossus Varnish Brushes are the best varnish brushes on the market for any level painter! The hair is purposely set at an angle allowing the user to hold the brush at a comfortable 45?
The high-quality filament, stainless steel ferrules, solid beech wood, and skilled craftsmanship contribute to a long brush life and are ultimately a great value! This brush also makes for a perfect gift for any level of artist! Features: FEATURES: High-quality 0.15mm PBT tapered filament, Stainless steel ferrule, and Solid beech wood handle PERFECT FOR: Varnishing, Oil and acrylic paint of any viscosity, Fluid acrylic to heavy body, Thin ink or watercolor, Oversized calligraphy or lettering, Covering big areas, and Heavy impasto techniques HANDMADE in Germany with solid beech wood and synthetic bristles that have excellent shape retention The New York Central Colossus Varnish Brush has a huge paint reservoir within the brush allowing for less time spent reapplying paint to the brush ERGONOMIC: This varnish brush was made to be comfortable in any work environment and unlike many brushes, it is very comfortable to hold at a 45? Order processing and cancellations: Once an order is placed into our system, it begins processing right away; that way, we can get it packed, on the truck, out the door, and on its way to you as quickly as possible. Because this process has a great deal of automation, we are unable to cancel orders once they have been placed. We apologize for the inconvenience. Paint brushes brush set big painting wood paintbrush painter artist cover large acrylic smooth para latex staining painters accesorios pintura arles applied colors flat assorted supplies medium kit wall wash throw premium professional trim art supply.