KATO 1060440 N SCALE EMD E7A/A New York Central 2 A/A Locomotive Set 106-0440 DC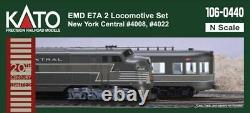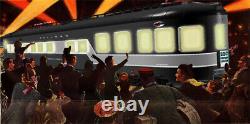 N SCALE, POWERED SET, STANDARD DC. DCC READY FOR YOUR DECODERS (DECODERS NOT INCLUDED). Called "The Most Famous Train in the World", the New York Central "20th Century Limited" is one of the classic and most recognizable named trains of the 20th Century. Headed by some of the world's most famous locomotives and connecting the great cities of New York City and Chicago, the "20th Century Limited" - along with its competitor from the Pennsylvania Rail Road the "Broadway Limited" - operated for more than 60 year Red Carpet Service: The New York Central prided itself on its "red carpet treatment" of passengers of the 20th Century, who would board the train walking across an elegant maroon carpet emblazened with the 20th Century's logo.
As a special treat, the Kato 20th Century Limited train will include a "red carpet" re-railing tool, allowing you to place your cars in similar extravagent style! INCLUDES: EMD E7A New York Central #4008 EMD E7A New York Central #4022.